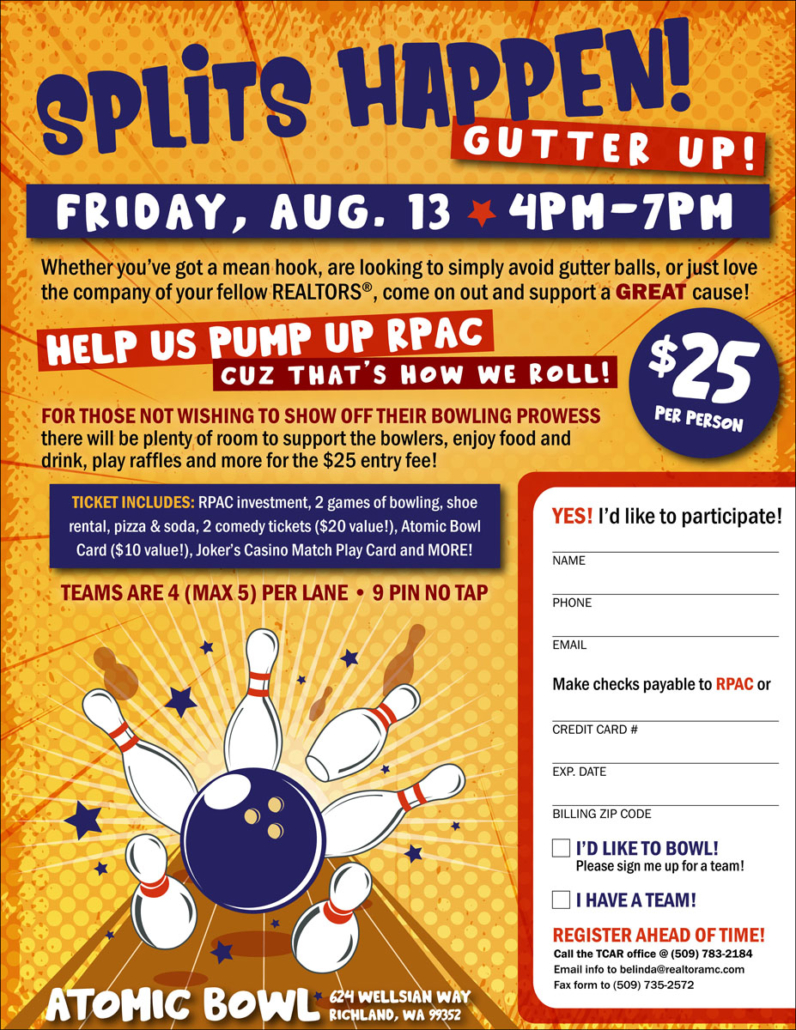 August 13, 2021 @ 4PM-7PM
SPLITS HAPPEN!
RPAC Bowling Tournament
It's that time again, finally! Our RPAC Bowling Tournament SPLITS HAPPEN! is ON and IN PERSON for Fri., Aug. 13th at Atomic Bowl. Whether you've got a mean hook, are looking to simply avoid gutter balls, or just love the company of your fellow REALTORS®, come on out and support a GREAT cause: PUMPING UP RPAC! 
Our Tourney causes dancing in the lanes, drinking at the counter, laughing and silliness throughout the building, bowling balls hitting pins and gutters alike, and oh-so-much fun! There's food, there's games, there's beer, and of course, there's bowling!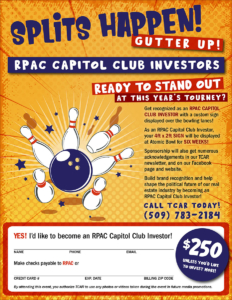 $25 entry ticket includes: RPAC investment, 2 games of bowling, shoe rental, pizza & soda, 2 comedy tickets ($20 value!), Atomic Bowl Card ($10 value!), Joker's Casino Match Play Card and MORE!
For those not wishing to show off their bowling prowess, there will be plenty of room to support the bowlers, enjoy food and drink, play raffles and more for the $25 entry fee!
WE ALSO HAVE SPONSORSHIP OPPORTUNITIES! Get recognized as an RPAC CAPITOL CLUB INVESTOR with a custom sign displayed over the bowling lanes! As an RPAC Capitol Club Investor, your 4ft x 2ft SIGN will be displayed at Atomic Bowl for SIX WEEKS!
Sponsorship will also get numerous acknowledgements in our TCAR newsletter, and on our Facebook page and website.
With your $250 Sponsorship, you can build brand recognition and help shape the political future of our real estate industry by becoming an RPAC Capitol Club Investor!
Interested in bowling? Put together your own team OR we can sign you up for a team! (Teams are 4 (Max 5) Per Lane • 9 Pin No Tap)
Call the TCAR office @ (509) 783-2184 to register as a bowler or to sign up as a sponsor!
http://tricityaor.com/wp-content/uploads/2016/04/cropped-LogoNewSite-1.png
0
0
tcradmin
http://tricityaor.com/wp-content/uploads/2016/04/cropped-LogoNewSite-1.png
tcradmin
2021-06-18 15:36:29
2021-07-12 13:15:41
August 13, 2021: SPLITS HAPPEN! RPAC Bowling Tournament